Meet Our Doctor
Dr. Novak is committed to providing excellence in dentistry and stands out as a leading dentist in our area. He uses the latest in dentistry techniques to provide you with a beautiful and healthy smile. Additionally, Dr. Novak believes strongly in education to prevent oral health problems before they occur.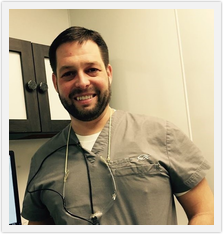 Dr. Scott M. Novak, DDS, PA
Dr. Scott M. Novak started his practice in Denton, Maryland in 2005 and since that time has helped to ensure that residents of Caroline County have access to quality dental care.
He was born and raised in western Pennsylvania and attended Washington and Jefferson for his undergraduate studies, receiving a Bachelor of Arts in 1998. He pursued his graduate studies at Case Western School of Dental Medicine graduating with his Doctor of Dental Surgery in 2002. After graduation he worked in central Ohio prior to moving to Annapolis, Maryland. In 2018 Dr. Novak relocated to Preston, Maryland so that he may live in the community that he loves to serve.
Dr. Novak is married to his wife, April and enjoys all types of activities such as biking, kayaking, watching sports and cooking, as well as spending time with family and friends.